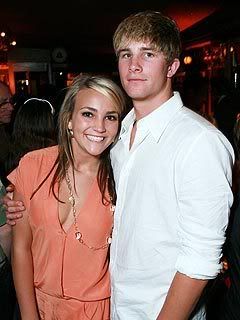 Despite rumors of:
their break-up;
Lil Romeo being the culprit who knocked her up;
Casey being possibly charged with statutory rape;
Jamie Lynn giving up the baby for adoption;
and possibly even alien abductions and sightings of Jesus Christ in a bowl of Fruit Loops ....
It appears that Jamie Lynn Spears and Casey Aldridge are engaged. People reports that the 16 year old star of Zoey 101 has been seen showing off a diamond ring to "friends and family around Louisiana and Mississippi." She is due with their baby this summer.
She bought him a truck earlier this year, so an engagement ring is the least he could do, right?
On a serious note, I know the odds are 873.6% against them, but I am kind of rooting for them here. I think it's a good sign that they're planning to get married. It might sound old fashioned, but I think that he's doing the honorable thing by marrying her. And it would be novel, yes, but also really, really good if Jamie Lynn bucked the Spears' family trend and managed to pull together a happy, healthy life. Only time will tell, I guess.
Photo Source