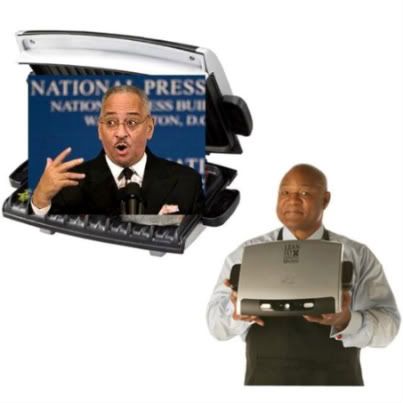 FOX News host Neil Cavuto spoke with George Foreman on Tuesday.
Near the end of a very rambling conversation, Cavuto turned the interview towards politics. George very diplomatically claimed to "love all three" Presidential candidates, but he sure doesn't love Rev. Jeremiah Wright. (If you haven't been paying attention, that's Barack Obama's former pastor who has the panties of every political pundit in the nation in a very tight wad.) Witness:
CAVUTO: ... if you had a pastor who said crazy things, what would you do? You would beat him up, I guess.

FOREMAN: Yes, I would eat him.

CAVUTO: You would...

FOREMAN: Put some salt and pepper on him.
Unlike certain other heavyweight champions *cough*MikeTyson*cough*, at least George Foreman has the decency to season and cook people before he takes bites out of them!