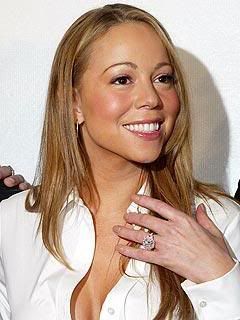 The celebrity blogosphere is all abuzz with reports that Mariah Carey and Nick Cannon married this week on a trip to the Bahamas. Gabby Babble dishes that the two got hitched in a "secret ceremony in front of family and friends at Mariah's house in Eleuthera."
Latina.com claims their sources say that the wedding was "very impulsive," and "there was no pre-nup -- there wasn't enough time." However, there was evidently enough time for Nick to purchase a honker of a rock for his new missus - Jacob & Co Jewelers have confirmed that they designed the $2.5M ring. In Touch Magazine quotes the jeweler:

"It has a square, emerald-cut, fancy light pink diamond as the center stone that is 10 carats. It is surrounded by 58 pink diamonds, with two half-moon diamonds on each side."
You read that right, kids. The girl is walking around with TWO POINT FIVE MILLION CLAMS on her FINGER. Her hand is now worth more than the entire GDP of several small nations.
Welp, good luck to them. You know how well weddings generally work out after one whole month of courtship?
Yeah, that's what we thought too.
Photo Source