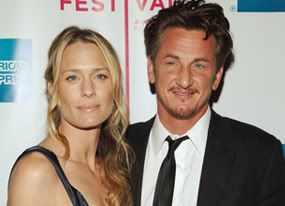 Us Magazine is reporting that Sean Penn and Robin Wright Penn, who filed for divorce this winter over "irreconcilable differences," have called their divorce off.
Tuesday was Robin's birthday, and the couple attended an Eddie Vedder concert in San Francisco, where Sean dedicated a song to his wife. Court officials confirmed that their petitions for divorce were dismissed on Tuesday as well.
I was sorely disappointed when I heard that Sean was hanging out in San Francisco with a "mystery brunette" just days before their split became public. I was even more disappointed to see him getting cozy with Petra Nemcova at the Oscars last month; although to be fair, I also questioned her judgment.
But now I don't know about Robin's either. I mean, I'm sure they have many reasons to stay together - the two biggest ones being their kids Hopper and Dylan. I'm just not sure I could take the man back after seeing him all over the press canoodling with a freaking supermodel.
However this works out, though, I wish them luck and hope in the end they make the healthiest choice for them and their children.
Photo Source